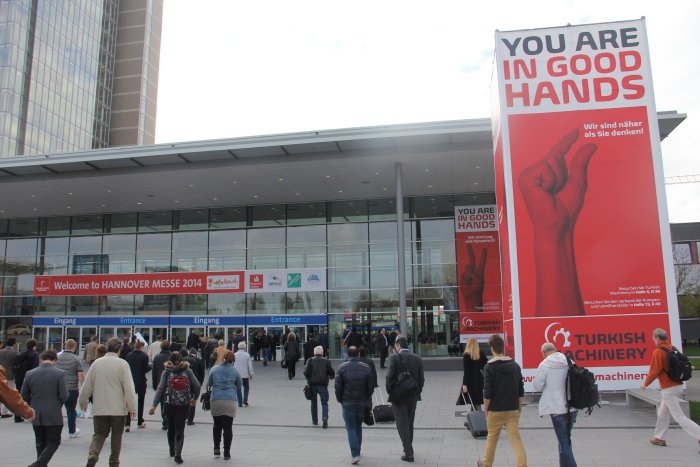 Turkish Machinery Promotion Group (TMPG) took place with two info stands at the most important industry fair organization, Hannover Fair which was held in Hannover between April 7- 11, 2014. TMPG left its mark at Hannover with numerous promotional activities and advertisements. The advertisements representing 8.000 Turkish Machinery Exporters, were placed at the airport, towers, shuttles, billboards at the fair ground.
TMPG was also the sponsor of the Opening Ceremony attended by Angela Merkel, The Prime Minister of Germany and Mark Rutte, Head of State of The Netherlands and again with the sponsorship of TMPG, Turkish beverages were served at the cigar lounge.
Turkish Pump and Valve Manufacturers' Association participated to the fair at the stand which was in hall 15, as co-exhibitor with TMPG.
The Consul General of Hannover, Mehmet GÜNAY and The Commercial Attaches, Kudret CERAN visited TMPG's stand.
Vice President Kutlu KARAVELİOĞLU, Board Members Sevda Kayhan YILMAZ, Ali EREN and Ferdi Murat GÜL also participated to the Hannover Industry Fair as the representatives of Machinery & Accessories Exporters Union and Turkish Machinery Promotion Group. 200 Turkish and German visitors attended the cocktail organized at the TMPG's stand on April 8, 2014.
Turkey, took place with 160 companies at Hannover 2014 Fair.